Lecture 01: Is it Fair? Copyright Best Practices for Academic and Research Librarians
The Marina G. Dayrit Lecture Series (MGDLS) returns in 2023 with the first MGDLS Lecture series delving into Copyright and Intellectual Property with Dr. Fernan R. Dizon, the Chief of the Copyright Services Division of the Intellectual Property Office of the Philippines (IPOPHL). Titled Is It Fair? Copyright Best Practices for Academic and Research Librarians this webinar will be held online via Zoom on 11 August 2023 (Friday), from 1:00 – 4:00pm. Registration fee are as follows: P300 for PAARL and AASDI members, P350 for non-members, and P200 for undergraduate students.
The theme for this year is Scholarly Communication and the objectives are:
1) Understand the role that librarians and libraries play in the cycle of research and academic rigor
2) Know the different aspects of scholarly communications, particularly in Intellectual Property, Open Access, Predatory Publishing, Research Data Management and Research Impact
3) Craft projects or programs that will support users of the academic library in strengthening their research activities and outputs
Interested participants may download the invitation letter at bit.ly/MGDLS1_invitation and the registration link is at bit.ly/PAARL2023_MGDLS1_Reg. Payments may be made via GCash to the PAARL Treasurer, Mae Lyn Quinto-Baron at Mobile No: 0966-475-9872.
The PRC-Board for Librarians has approved this webinar's application for CPD Points.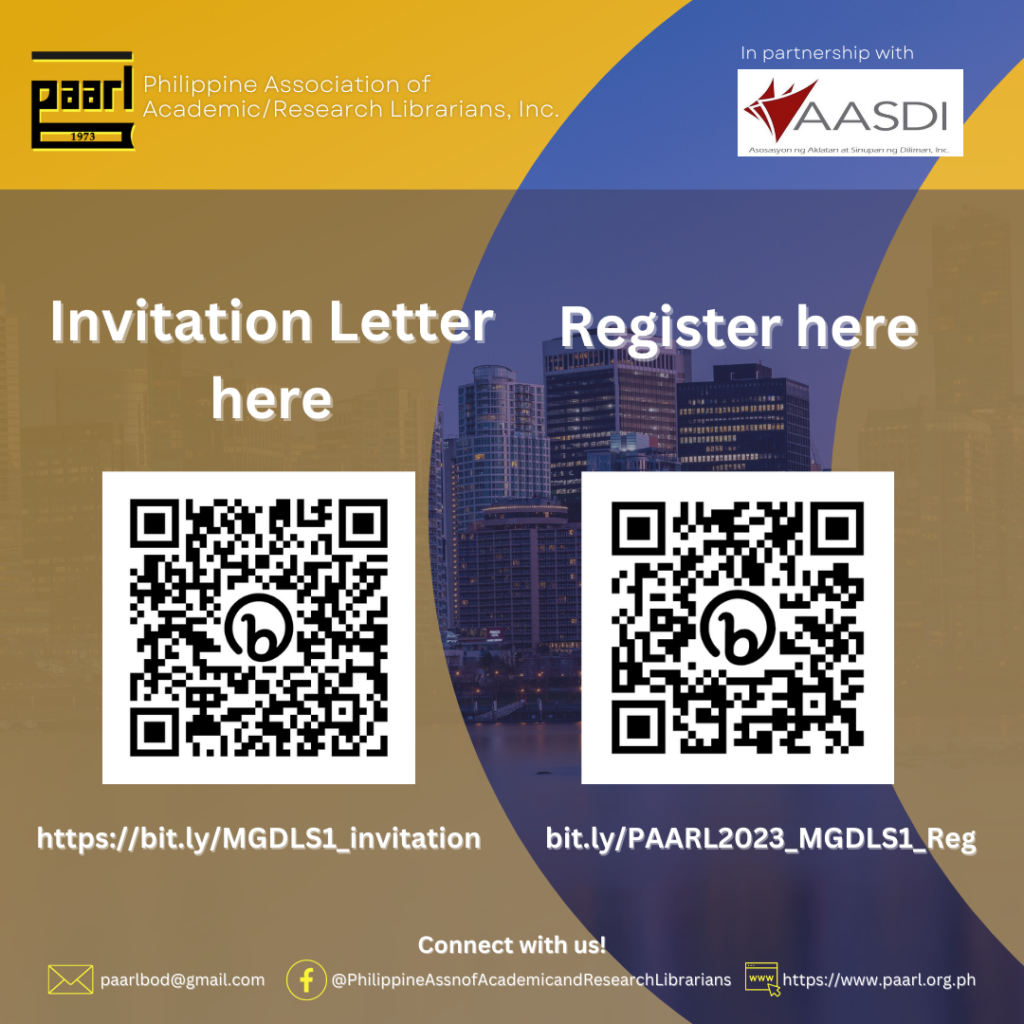 The MGDLS is one of the longest running lecture series offered to professional librarians and LIS Students in the Philippines. This year, MGDLS is offered in partnership with the Asosasyon ng Aklatan at Sinupan ng Diliman, Inc. (AASDI), the organization founded by Librarians, archives and library staff of the University of the Philippines Diliman, where Marina G. Dayrit was the University Librarian from 1963-1981.
This year's lecture series delves into Scholarly Communication. While scholarly communication has always existed in the traditional sense (i.e. printed academic publications and its pre-publication processes), it is changing rapidly because of the innovations in technology, evolution in the way we produce and consume information, and the exponential growth of information resources. Academic and research librarians are more involved in the way information, data, and research is processed. In addition to the roles librarians perform, and the technologies involved, there is also the question of ethics, access, and preservation, among others, that is worthy of discussion. This lecture series aims to help participants gain more insight on how they can handle questions regarding scholarly communication, become better actors/agents in the scholarly communication process, and be a driver in the increased research and information output of their institution.
UPDATE: This article has been revised to reflect the (approved) status of its CPD points application.