The PAARL National Summer Conference 2023 will be held in person from 26 to 28 April 2023 at the La Carmela de Boracay Hotel and Convention Center, Boracay, Aklan. This year's theme, Building the Future: Key Strategies and Opportunities for Libraries in the Post-Pandemic Era, aims to gather librarians, LIS practitioners, and other interested participants to learn new strategies for libraries on innovations that academic libraries have been experimenting with since the pandemic until now, collaborate with library professionals and practitioners, and share knowledge on new emerging services, resources, collaboration, and linkages, including academic librarians' adaptability to help their libraries transition from a physical to a hybrid approach to library management.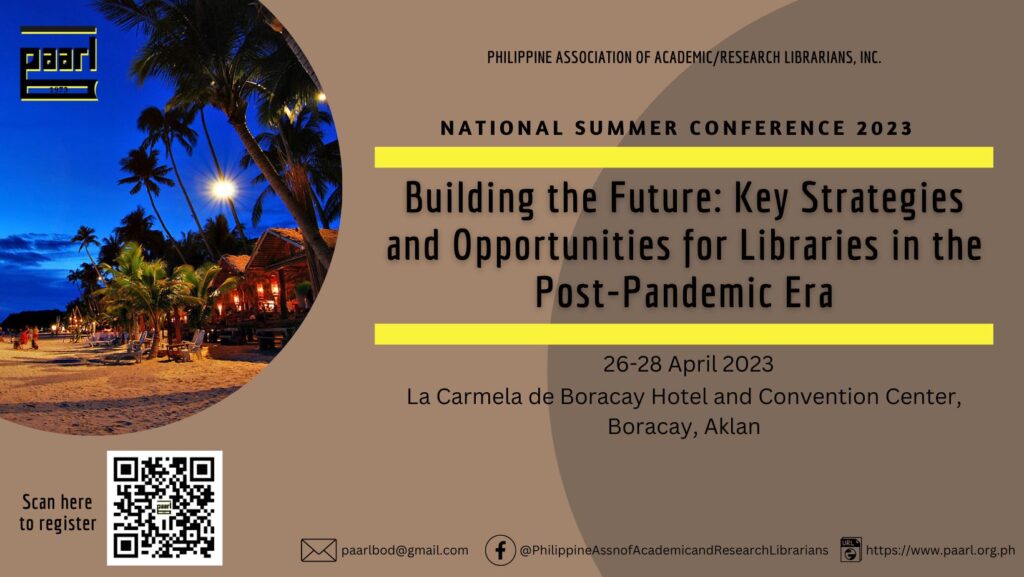 Subthemes for this year's conference are (but is not limited to):
Hybrid Libraries
Approaches to Library Services
Collection Development Strategies
Administration and Management of Libraries
Library Spaces in the New Normal
Teaching and Learning Information Literacy
Technology and Innovations in Libraries
Sustainability in Libraries
Cooperation and Networking
Registration fee are as follows (inclusive of Conference kit, Certificate, Handouts, and Meals [2 AM
snacks, 2 PM snacks, 3 lunches]):
Early Bird Rate (payments deposited March 1-15, 2023)
Member : Php5000.00 | Non Member : Php5,500.00
Regular Rate (payment deposited from March 16- April 15, 2023)
Member : Php5500.00 | Non Member : Php6,000.00
Late Registration / Walk-in (April 16 onwards)
Member : Php6,000.00 | Non Member : Php6,500.00
Interested participants may register through our online registration link, while the invitation may be downloaded here.
Participants are encouraged to avail of the early-bird rate and take advantage of the discounted registration fee. Payments may be deposited to PAARL's account:
BDO Unibank:
Account Name : Philippine Association of Academic/Research Librarians, Inc
Account Number : 000560345658
Inquiries may be sent via email to paarlbod@gmail.com or through direct messages to PAARL's Facebook account.
Details of the Conference's program will be posted soon. For regular updates of PAARL's events and activities, follow us on Facebook facebook.com/PhilippineAssnofAcademicandResearchLibrarians